At Lumav, we have been involved over the years in the creation of a wide range of different business to business sales solutions for the Magento platform. Below we give a little more insight into how B2B sales business needs have been solved in Magento, including the corresponding functionality of Adobe Commerce.
We won't go into the importance and difference of B2B, as this has already been covered in countless different promotional blog posts. Food for thought: a product has to go through several resellers before it reaches the end consumer, and each of them has to have a functional ordering facility. In the Nordic countries, the volume of B2B business is said to be as much as 7 times higher than B2C business. Volumes are high and companies cannot afford the extra time and errors involved in manual reprinting. Abandoned shopping baskets in this business can even be worth a six-figure number 🙂
Historically, B2B sales have been by fax, phone and email, or a special solution was created to make ordering easier. Professional e-ordering environments started to appear in sectors where competition is higher, product assortments are more variable, and other product information was communicated (see also the post on managing product information in PIM). Also, many small businesses nowadays want to place orders on the phone while sitting in front of the TV in the evening.
B2B hacks for Magento Open Source
In the past, B2B solutions have been solved from scratch, because the licensed version of Magento 1 simply did not have a ready-made B2B solution. Many merchants cleverly further developed the existing Magento B2C solution and killed two birds with one stone. Below are some simpler solutions for smaller e-commerce stores that do not require an Adobe Commerce license:
Option to pay by invoice – Displaying the option to pay by invoice in the shopping cart for a certain customer group, to which all B2B customers are added.
More convenient to order larger quantities – Customer wants to order at once and in large quantities; more products in the catalogue view. We have also customized catalogues by Excel.
Hidden from public view – Many B2B businesses want to show their assortment or prices only to the respective customer. This can be easily implemented with an add-on module or by putting the whole store under a password.
Personalized prices and/or assortment – In case price lists don't come from the interface, you can combine Magento customer group rules with shopping cart price rules. The customer only needs to log in to see the prices that suit them.
Separate storefronts – Magento architecture allows you to create different storefronts (e.g. for different countries, product groups, customer groups) that can be managed in a single Magento installation. If you already have one store in Magento, you can easily use it as a basis for a B2B system. We have also seen situations where a completely separate B2B e-ordering environment is built for a major customer, exactly according to their needs.
A B2C experience for a B2B customer – There are many more solutions in the Open Source solution that can be cleverly leveraged in B2B. The B2B subscriber/buyer is also a person who is trying to evaluate what his customers would buy, and through a good user experience, more trust can be built in him.
With Magento Open Source, you can set up a basic B2B e-ordering environment. However, if you have more competition, more customers, more products, and an established B2B e-business, it is worth considering an Adobe Commerce license, which provides the most important B2B functionality in a single working solution.
Adobe Commerce B2B Suite
Magento released its B2B functionality set in 2020 and this functionality became part of the Commerce solution. Having spoken to hundreds of customers, we can confirm that almost all of these functionalities have been requested by Lumav customers, either individually or in combination – we think Adobe has done a good job in putting together the business requirements for their product. We include below an excerpt from a Forrester study showing Adobe Commerce's position among the top B2C (left) and B2B (right) performers.
We highlight the most important of them below with a brief description of the business need:


Multi-level accounts (Company accounts/Company structure/Roles and permissions)
A merchant's customer is a customer with a multi-level management structure, with an established purchase approval process: for example Tallinn, Tartu and Pärnu departments place orders, the head office confirms the order, and someone must have overview and control of the whole process.
Business customers on the website can create sub-accounts for their managers on the main account. Each sub-account has flexible rules that the account owner sets for them. This means that B2B customers of an e-commerce website can build up a company structure (departments, sub-departments and users) in a suitable hierarchy and assign different user roles and rights to company members.
This hierarchy allows the company administrator to control the user activity on the company account: ordering, quoting, purchasing, accessing the company credit information or profile… The number of sub-accounts is not limited. The merchant can configure how the company operates on the website, including payment methods, price levels, the ability to negotiate prices and create order lists. It is possible to configure that all orders are made as purchase orders by default and a business user with specific rights can edit, delete or approve them.
It is also possible to assign a sales representative to each company account. The sales representative is the admin user who is assigned as the administrator of the company account and who receives all automated emails related to the company.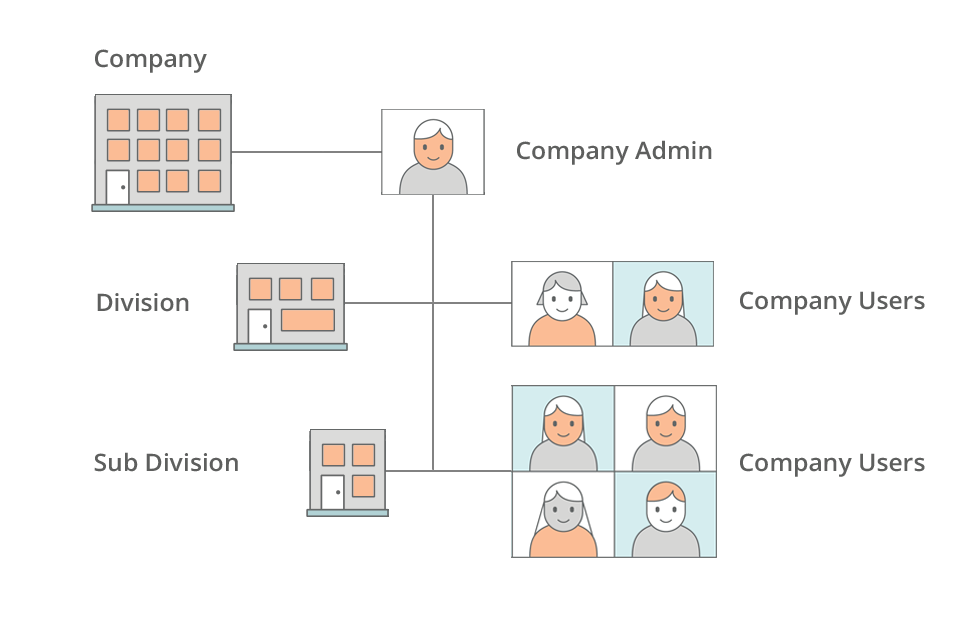 Price negotiations (Requesting a quote)
In case of a B2B customer, the quantity of goods to be ordered can be large and the buyer may wish to receive a discount. After adding to the shopping cart, the buyer can "Ask a Query" instead of "Add to Shopping Cart" and the merchant can accept or make his counteroffer, if he wishes. Very useful functionality if a B2B customer makes large one-time purchases and is likely to take multiple offers.
Workflow: Customer makes a price request → Merchant reviews the request and sends a response → Customer receives a response → Customer continues negotiations/Customer cancels the price request/Customer accepts the offer.
All negotiations between the customer and the merchant are duplicated via e-mail and are initiated and monitored from the quote detail view. During negotiations, the merchant can change products and quantities, apply a discount to the total amount, change delivery methods and add comments.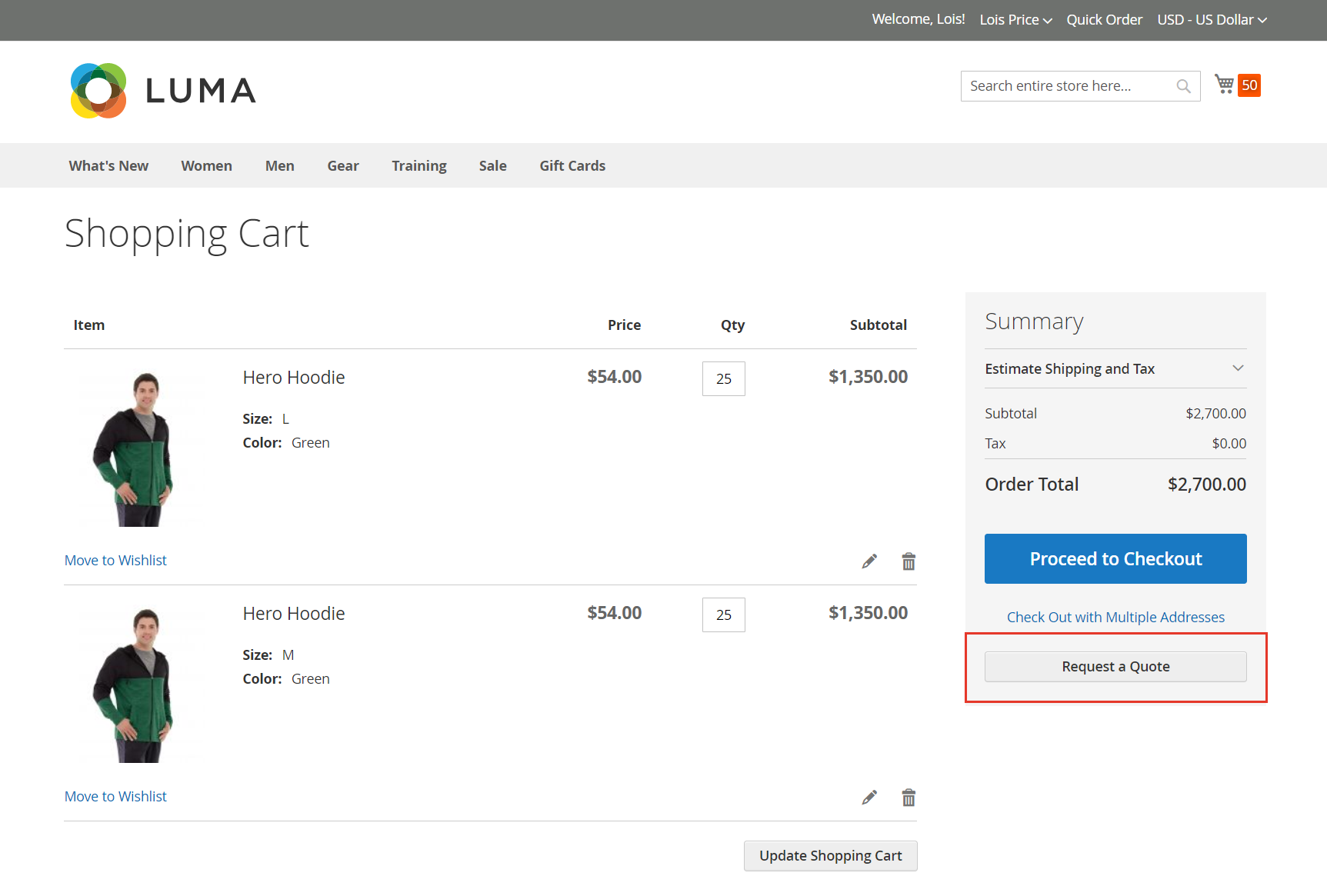 Company credit
A business customer wants to pay by invoice, the seller wants to set credit limits so as not to push the risks too high. The limits also vary across customers and the solution allows the customer to interactively find out their credit limit.
This feature allows businesses to make purchases from their own account up to the credit limit given to the business. When enabled, the purchasing company can see its credit history, the list of outstanding invoices and the credit limit. The seller can modify the credit limit by indicating the reason for the modification.
Based on Lumav's experience, this is one of the most requested solutions in B2B e-ordering environments. Usually interfaced with accounting software for real-time control of receipts.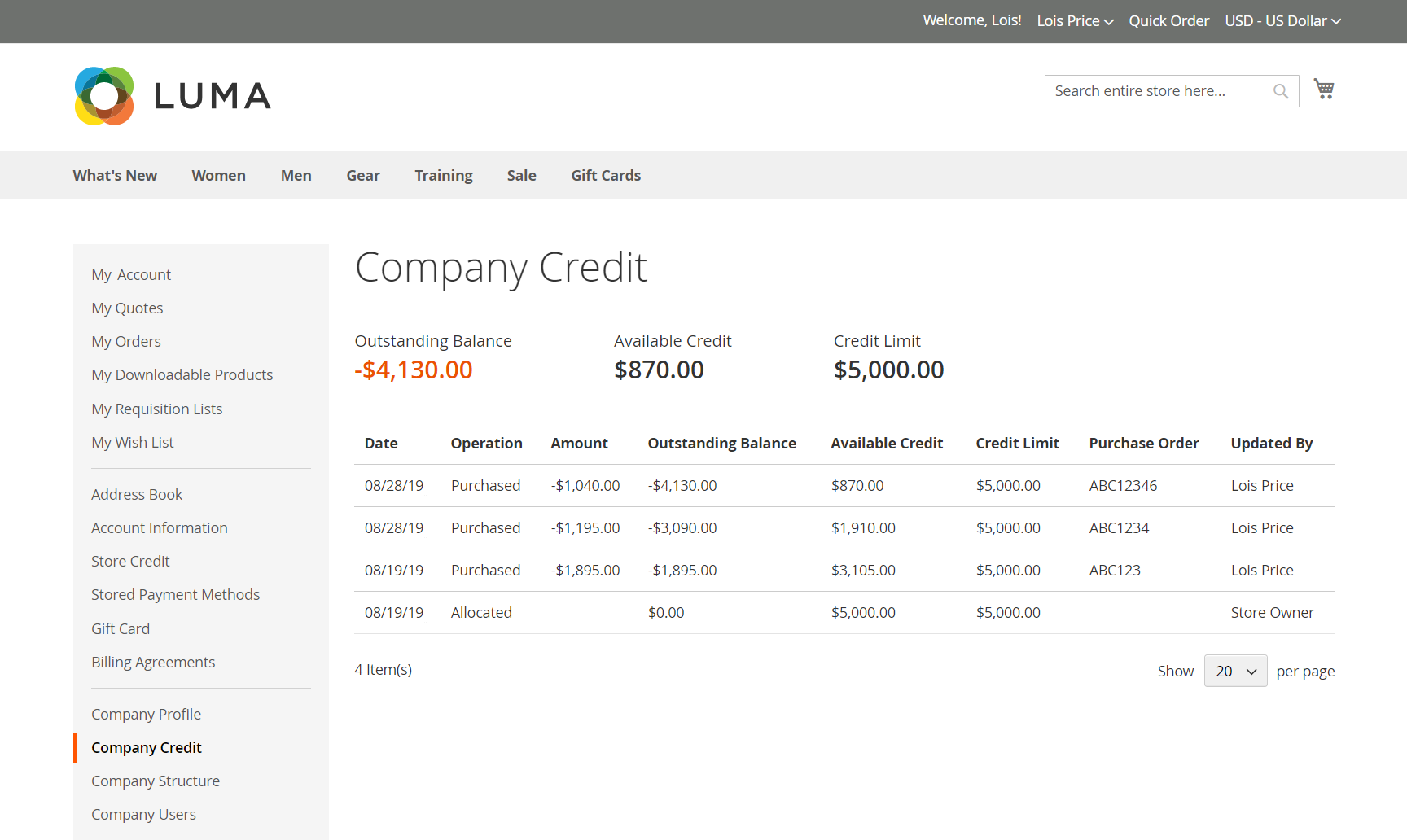 Quick orders
A customer wants to update stock and order 300 lines of different products. He is familiar with the products and just needs a way to enter them quickly.
The products can be added one by one in the quick search by SKU (product code) or by product name. In addition, SKU's can be uploaded with the desired quantity in various file formats. It is also possible to easily export from another program (including your previous order), change quantities and import back.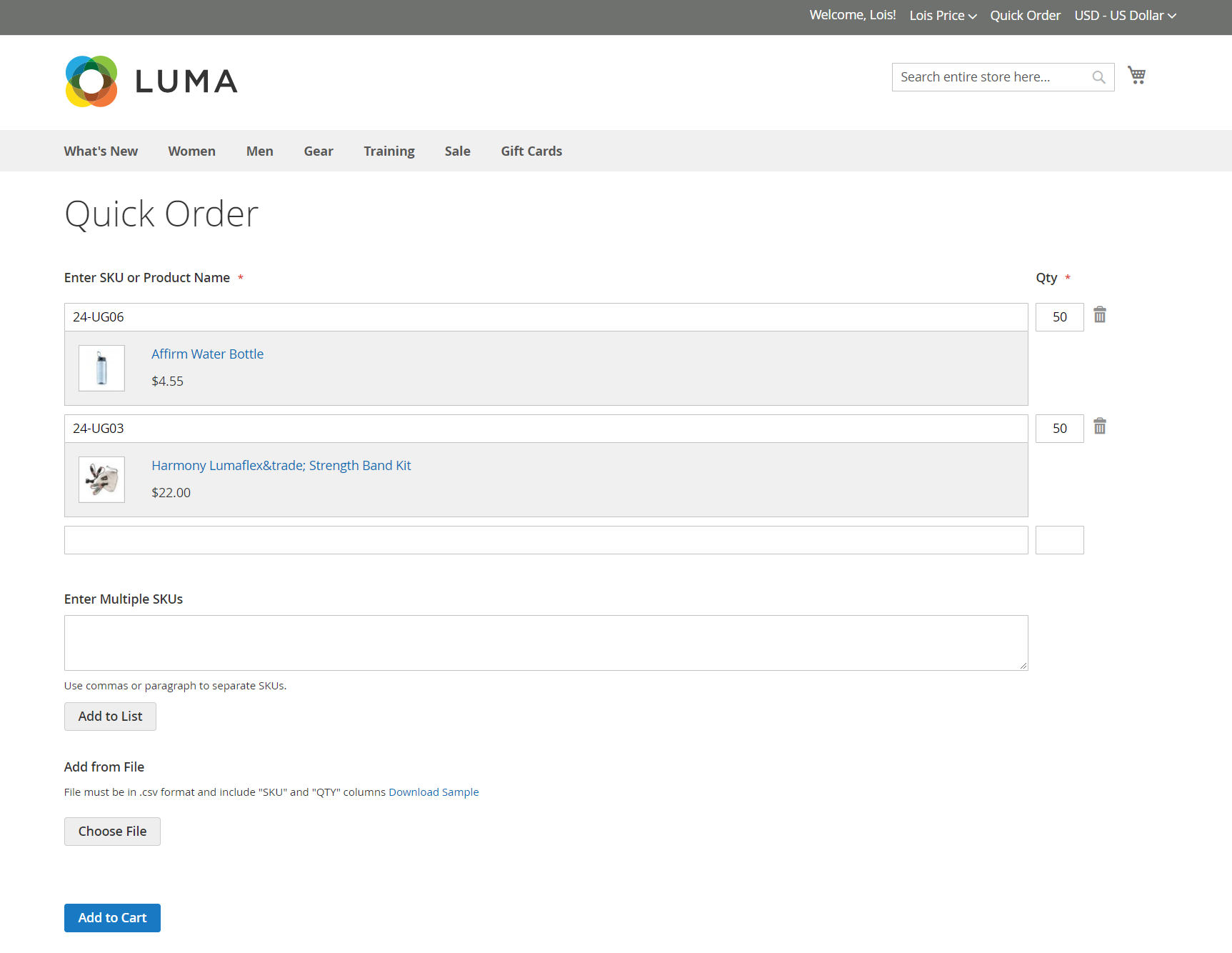 Shared catalogues
The trader has a very large product catalogue and shoppers combine the products from each sub-catalogue that are most relevant to them. The merchant will create special catalogues for specific customers/customer groups, containing the products that interest them most.
The shop owner can keep customer-specific catalogues with different prices for different businesses. Using shared catalogues, products can be sold by applying different price levels to different customer groups. There is a single public directory on the website for users who are not logged in and for those who are not linked to a specific business. Restricted directories can be created as many as needed, which are only visible to logged-in users linked to a specific company. In order to authorise a public catalogue for specific companies, the vendor creates customer groups and assigns them specific catalogues.


More functionalities
These were some of the functionalities and with a B2B licence B2C functionalities are included. For a full list of updated B2B functionalities, visit the Adobe website.
Summary
In this medium-length post, we've highlighted a few snippets of our own experience in creating different B2B solutions that we consider relevant for most businesses.
Clients from different sectors have created very clever special solutions, including smart use of B2C elements – where innovations can be shared in part or in full in a single installation. We've also seen that there are many paths to success, and that in the same area, very different solutions can achieve it. Finally, another old truth – based on successful customer experience, improving the B2B experience must also be a process, not a one-off development.
These are just a few ideas. We're happy to share our experience and think about your B2B business – feel free to contact us.