Facebook Business Manager offers a range of different marketing tools for marketers. In today's blog post, we take a closer look at Facebook Pixel, Commerce Manager, Advertising Tools and Creator Studio.
Facebook Pixel
Facebook pixel is a JavaScript code snippet that collects analytics about a website's usage. Events can be created to track user behaviour. The main use of Pixel is to create Facebook, Instagram and Messenger ads using Pixel events for targeting or measuring conversions.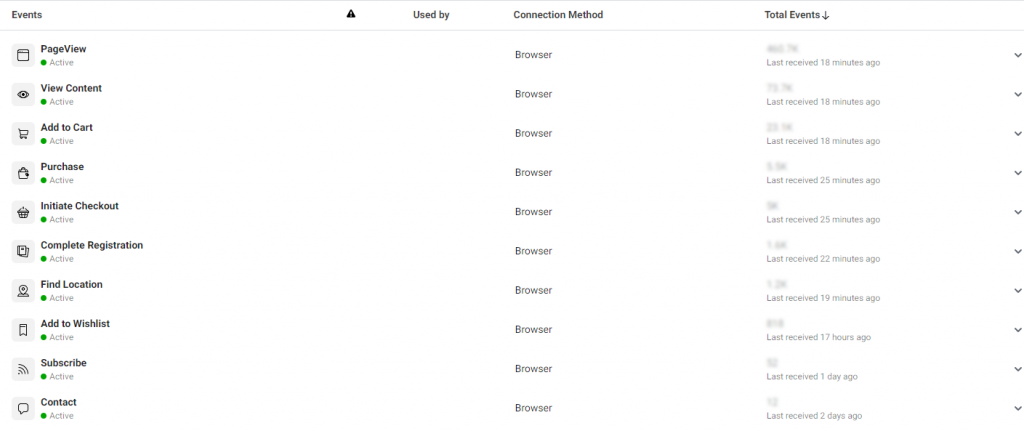 Configuration
Facebook Pixels can be added to a website using the Conversions API, which sends analytics directly from the server using the API, or by adding Facebook Pixel code to a website. Adding pixel code to a web page can be done directly in the code or using Google Tag Manager. Read more about Google Tag Manager →
Facebook Pixel events
Facebook Pixel events are designed to collect data on specific activities. Facebook Pixel offers 12 different standard events. Standard events can be added through Facebook Business Manager by adding the corresponding event code to the event page or by using Google Tag Manager. Each event has parameters that store more detailed information about the event. For example, when adding to a shopping cart, we can send the product code, name, color, size, etc. Each event has mandatory and non-mandatory parameters, some events have mandatory parameters for creating Dynamic Ads. Dynamic Ads take from the catalogue products, parameter values from Pixel and automatically create ads based on them.
The standard events are Add Payment Info, Add to Cart, Add to Wishlist, Complete Registration, Contact, Customize Product, Donate, Find Location, Initiate Checkout, Lead, Purchase, Schedule, Search, Start Trial, Submit Application, Subscribe, View Content.
In addition to the standard events, it is possible to create different events according to your business needs. Custom events can be added according to the complexity of the event, either through the Business Manager or by installing a code snippet on the page. Custom events can be for example: Clicking on a banner on the homepage, how far a page is scrolled, how long time on a page is spent, how many pages are viewed in a session per user basis and User Lifetime Value (LTV).
Usage of Pixel Events
Using Pixel Events we can create Facebook, Instagram or Messenger ads. For example, this month there is a promotion where X brand products are discounted. Using Pixel Events, I can target users who have searched, added X brand products to cart or wishlist in the last 30 days but have not made a purchase. If I select purchases as the ad conversion I can see from the reports how many purchases were made on the website for that ad. Or the number of times the products were added to the shopping cart, the total amount purchased and the profitability of the ad.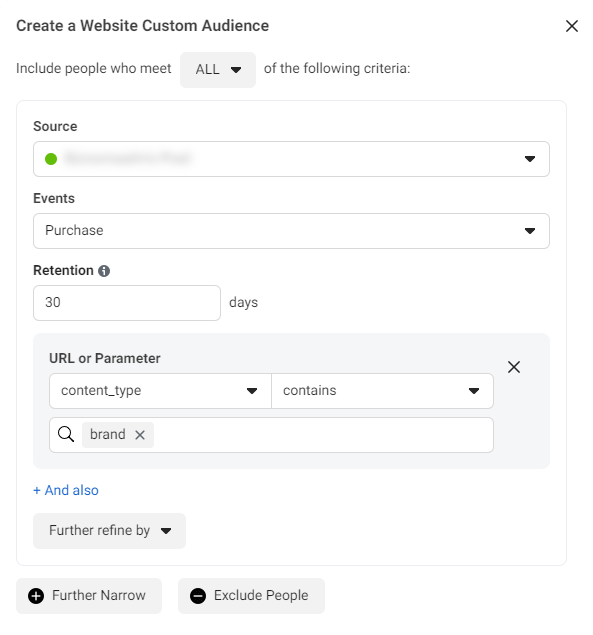 Even if you do not currently create Facebook ads, it is recommended to install Facebook Pixel in order to use the collected data later.
Facebook Pixel and iOS 14.5 updates
Due to iOS 14.5 updates, the Pixel's web event reception and process is affected. With Apple updates coming into effect, Facebook will begin using the Aggregated Event Measurement protocol, which processes events from users using iOS 14 devices to help understand and optimize the impact of ads. With the new protocol, 8 events can be tracked. To set up the Aggregated Event Measurement protocol, you will need to authenticate your website domain and specify which events will be tracked.

Need help with Facebook Pixel? Contact us!
Commerce Manager
Commerce Manager is for Facebook and Instagram sales and product catalogue management. Through Commerce Manager, you can add store functionality to your Facebook and Instagram page, where users can buy products directly from the platform, through a private message, or redirect users to the e-store checkout. It is possible to add product catalogs to Commerce Manager, which do not need to be linked to the Facebook or Instagram store.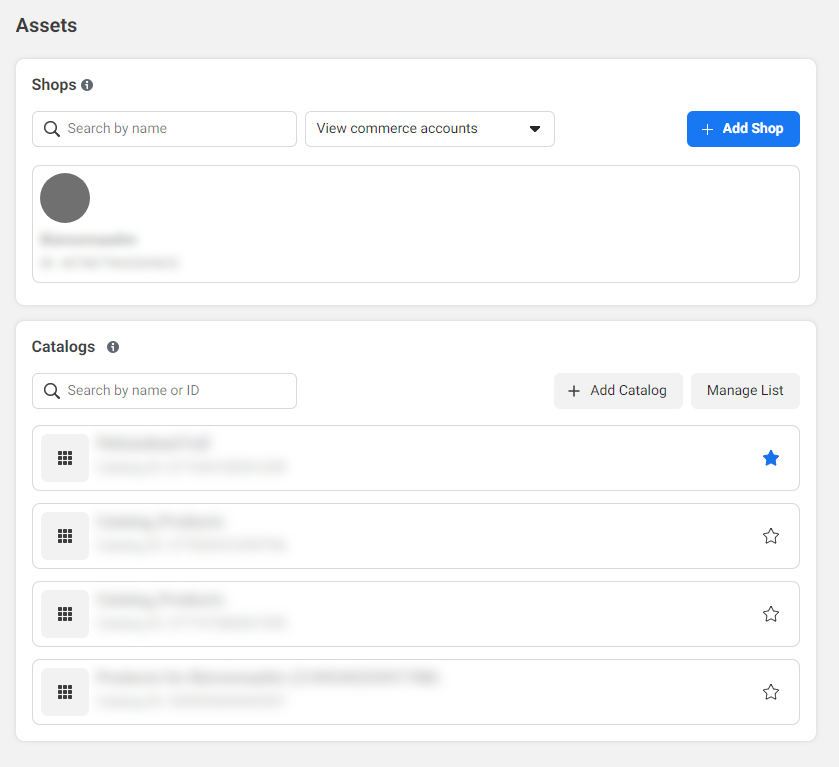 Shops
Facebook Business Manager allows you to create Facebook and Instagram stores. By creating stores through Commerce Manager, you can change the look of the store to match your brand style. It is possible to create collections of products and configure the layout of the store. In addition, it is possible to see the analytics of the store – which products are the most popular, most clicked, most purchased. If the purchase process is done directly on Facebook or Instagram, it is possible to offer users purchase protection, use inbox to interact and get an overview of delivery and customer service.

Catalogs
By adding a Facebook product catalogue, it is possible to use it for a Facebook or Instagram store or to use the catalogue to create ads, such as dynamic remarketing ads. The catalogue and Pixel can be combined to collect analytics.
There are four different methods to get products from your e-store listed in the Facebook catalogue:
Manually add products one by one – suitable for merchants who don't have a lot of products or stocks don't change often.
Add products with a file – you can upload a CSV, TSV or XML file of products or use a Google Spreadsheet link. This option is suitable for merchants who have a large product range and stock levels change regularly. For Magento 2 e-stores we recommend the Amasty module for generating data feeds, for M1 there is an official Facebook module.
Use partner platform – Suitable for merchants using Shopify, BigCommerce, ChannelAdvisor, CommerceHub, Feedonmics, CedCommerce, adMixt, Data Caciques, Quipt or Zentail platform.
Use Facebook Pixel – Products can be imported using the Microdata Tag. Products are added and updated when the product card is visited. Suitable for merchants who have a large product range and stock changes daily or hourly. The disadvantage is that if the product card is not visited, the product price or stock may be incorrect.

Need help with Facebook Commerce Manager? Contact us!
Advertisements
Ads Manager makes it quick and easy to create ads for Facebook, Instagram, Messenger and Audience Network. An all-in-one tool for ad creation, optimization and reporting.
Audiences
Under Audiences, it is possible to create target audiences for ads. Audiences can be created in three different ways: Custom Audience, Lookalike Audience and Special Ad Audience. Custom Audiences can be created based on a website (pixel), customer list (newsletter list), app, offline activity, video, lead form, instant experience, events, Instagram account, Facebook page, on-Facebook listing or shopping (Facebook and Instagram store). Lookalike Audiences can be created based on an existing audience by finding users who are similar to the existing audience. Special Ad Audiences are for merchants who create credit, employment or housing ads.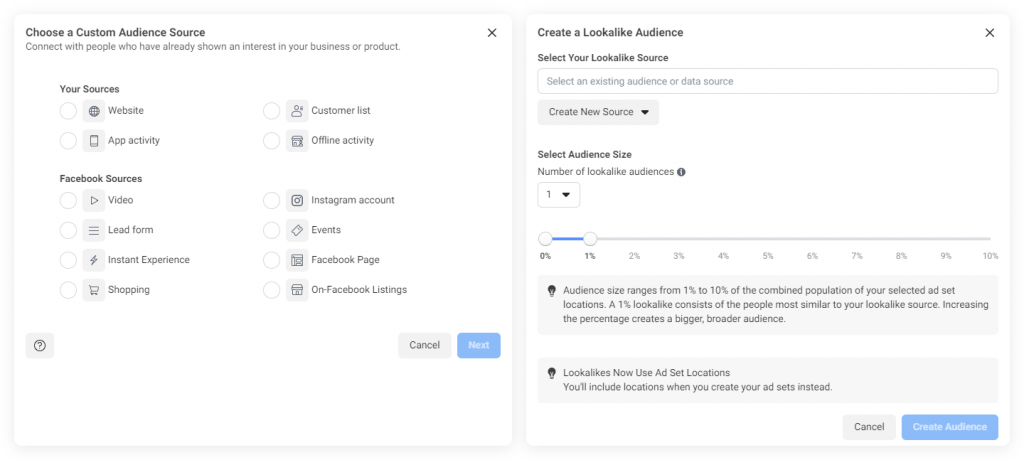 Automated Rules
Automated Rules are there to easily create rules for ads – turning ads off, budget changes, manual bid changes. For example, I want to turn off all ads when the monthly budget is full.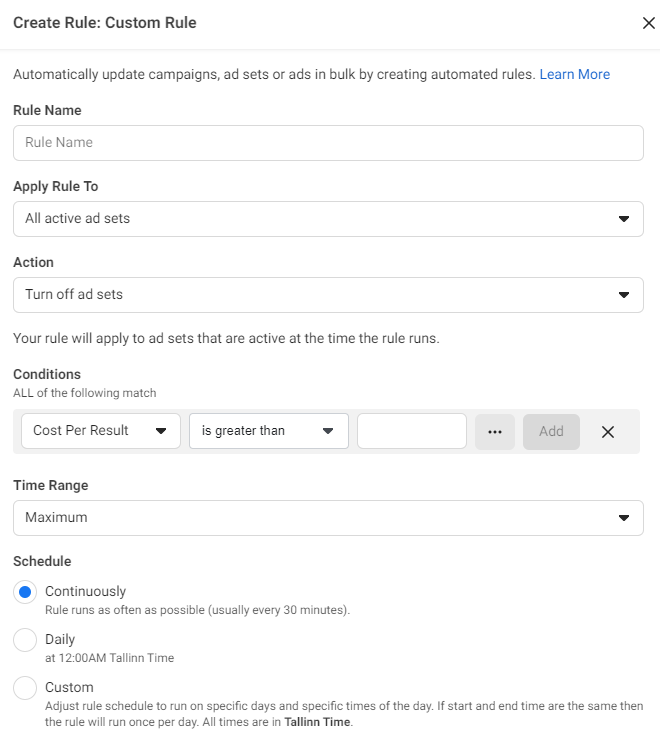 Campaign Planner
Campaign Planner is for planning advertising campaigns. When entering the graph and budget, it is possible to see the expected campaign reach and frequency. By creating several different versions of the same plan it is possible to compare and find the most effective campaign. Campaign plans can be shared with customers and employees. 

Creative Reporting
Under Creative Reporting, you can see which promotional materials (images, videos) have produced the best results. You can see the results based on Cost per Result, Link Click-through Rate, Impressions, Purchase ROAS, Reach and Results.

Experiments
Under Experiments, it is possible to set up different tests for the effectiveness of advertising.
A/B Test – Ability to test different versions of ads to see which works best. For example, a different banner or content.
Holdout Test – Measuring the total number of conversions for Facebook ads

Brand Research – Measure the impact of your Facebook ads by surveying your target audiences.

Campaign Budget Optimisation Test – Test a campaign with budget optimisation vs a campaign with no budget optimisation.

Traffic Analysis Report
The Traffic Analysis Report provides an overview of events that users are doing on Facebook and off Facebook. The Traffic Analysis Report includes paid and organic sources added to the company's business asset group. These can be Facebook Page impressions, Pixel events, app events and offline events. The report shows the last 30 days of daily results for each event.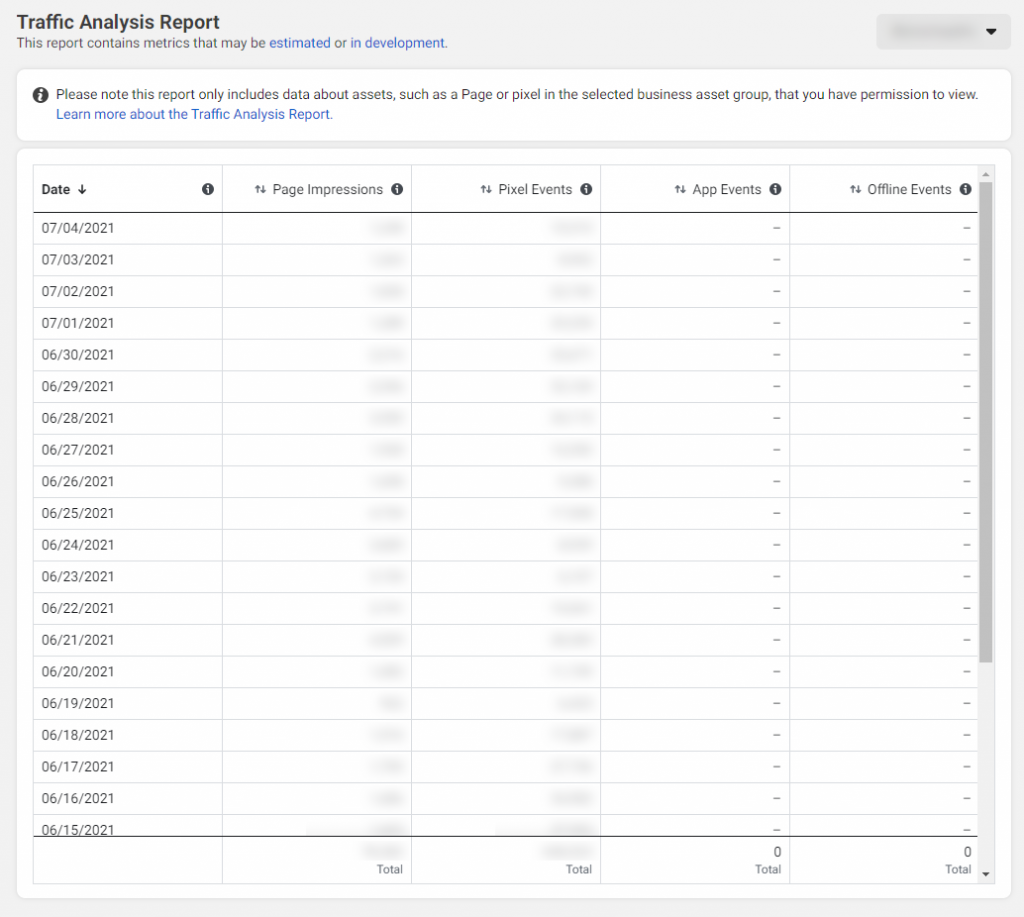 Need help with Facebook ads? Contact us!
Creator Studio
Creator Studio is a handy tool for creating Facebook and Instagram posts and viewing analytics. Usually you can only see Instagram analytics in the mobile app, but using Creator Studio in the browser you can see the same overview of stats as in the app. The downside, however, is that Instagram stories can't be posted through Creator studio. Facebook stories, however, can be posted.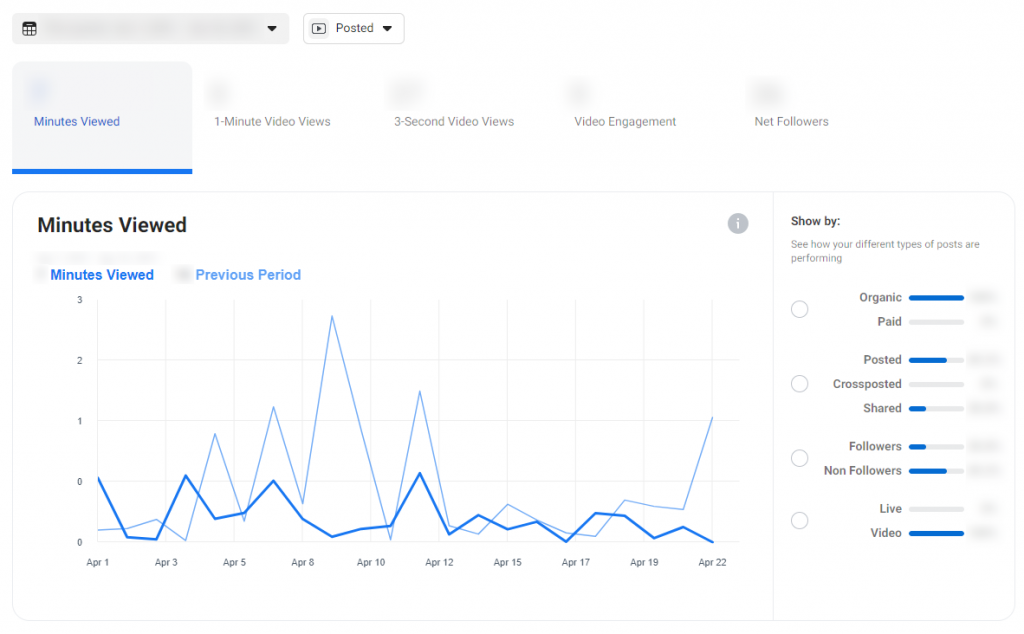 Need help with social media management? Contact us!