Decora is a retail and wholesale company of construction and home improvement materials since 1993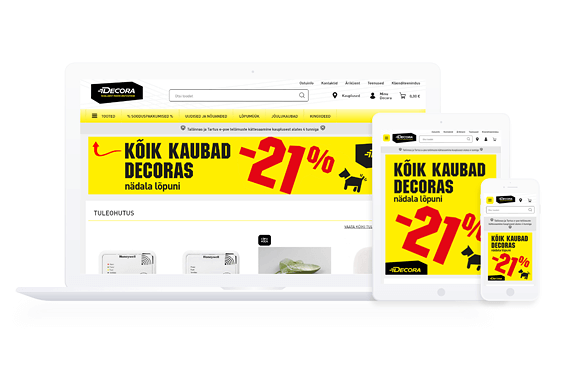 Magento Commerce
Compared to Open Source, Magento Commerce has many additional features. When it came down to the decision of choosing between Open Source and Commerce, the deciding factors for Decora were security and B2B capabilities. Decora is happy with Magento CMS Page Builder extension, that makes content management easier compared to Prestashop, where they had to edit HTML-code manually.
Effective eCommerce solution
In addition to Custobar, Akeneo PIM and Klevu, there are many additional features on Decora eCommerce, that are not part of Magento Commerce. We have created a customized shopping cart solution to meet the needs of our customers who want multiple delivery times or methods.
eBusiness analysis
Business analysis helps to put together an omnichannel solution in which the eCommerce isn't a single entity but a part of the whole. Therefore all departments of the company – purchase, marketing, sales, finance and logistics are reviewed in business analysis.
eBusiness analysis highlighted the importance of product enrichment and to achieve that an interface with Akeneo PIM was created. Previously a product name, image and description were sufficient to publish the product. Now they need to configure attributes, related products, up-selling products, and related categories to launch the product to eCommerce.
Thanks to eBusiness analysis, Decora has been streamlining and automating their processes, including unifying their customer base and product categories between web and retail as well as setting up attributes. Also, Custobar was introduced to unify customer base for omnichannel customers and to make automated marketing more efficient. To improve the search, we are integrating Klevu, a self-learning artificial intelligence-based search engine.
Lumav's client since 2018 – thank you!
eCommerce interface and design
Decora's wish is to keep their online store as modern and customer-friendly as possible. For the customer to find everything they need as efficiently as possible, they need to look at their eCommerce with a critical look: how the consumer is using the site and whether they are finding what they want.
Interfaces
Custobar
Akeneo PIM
Klevu