Goldtime is a retail and wholesale company, whose mission is to create trends and keep traditions, their product range mainly consists of jewellery and watches.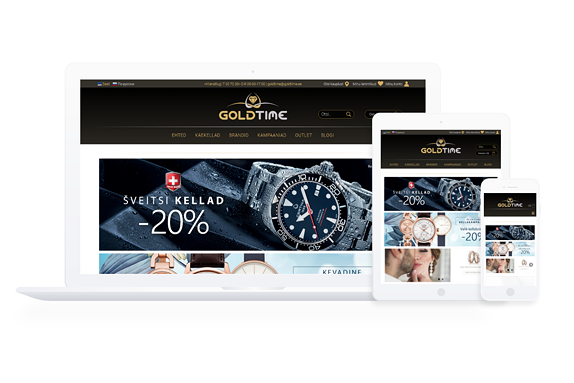 History
Megafort OÜ was founded in 1999. Goldtime's product range in stores consists mainly of jewellery that is divided into classic gold and silver fashion or brand jewellery. The wide range of watches includes a selection of "swiss made" watch brands, as well as a vibrant collection of watches from well-known fashion brands.
Expansions
In addition to the retail chains and online store, Goldtime has entered the Latvian market for which we created a Magento multi-site solution.
User interface and design
Lumav has created various solutions for Goldtime online store, both visually and technically. For example, we have developed a catalogue, order and gift solutions and integrations with Noom software. Lumav's checkout has also received a custom solution, and Lumav's GDPR extension was implemented to the online store.
Lumav's client since 2017 – thank you!
We started working with Lumav two years ago, and since we switched developers, Lumav's first challenge was to rebuild our existing online store. Lumav did a great job with this task, and our further cooperation has gone very well. I value Lumav's direct customer communication, and since they have valuable experiences, they are the great partner for any eBusiness.
Indrek Kaju
Megafort OÜ eCommerce Manager