Loverte is the largest online store in the Baltics that sells perfumery, cosmetics, and jewellery. At the Loverte online store, you will find brands known all across the world and products from renowned cosmetics companies.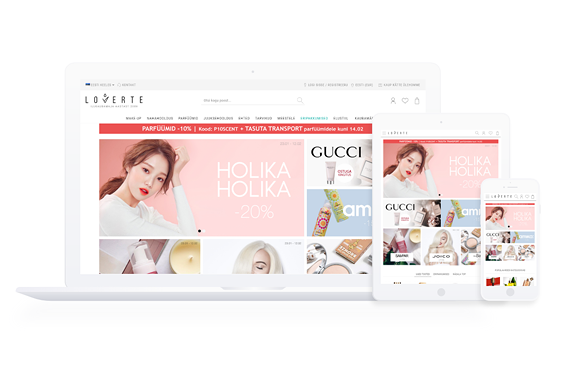 History
Loverte's (formerly Levelzone) online store is the first of it's kind to start selling products at significantly lower prices than retail. As a result, they have grown to become the leading beauty online store in Northern Europe with over 500,000 satisfied customers.
Convenient shopping
Every day Loverte works hard to add the most popular and sought after products to their selection. Minimalist design and one-step checkout make shopping convenient and easy.
Award-winning Magento online store
Loverte won the award for the most user-friendly online store in the beauty and health category and the best online store in Estonia and the Baltics at the "Baltic E-Commerce Summit 2019" conference.
Loverte has been Lumav's customer since 2017. During this time, we have customised and improved the interface, added new technical solutions and made the check out more user-friendly.
Lumav's client since 2017 – thank you!
In addition to creating eCommerce solutions, Lumav also ensures that they are available to clients after their store has gone live. Reliable long-term partner.
Ivo Joost
Joost-Level OÜ Chairman of the Board