Projecta is a leading industrial machinery and component supplier in Finland.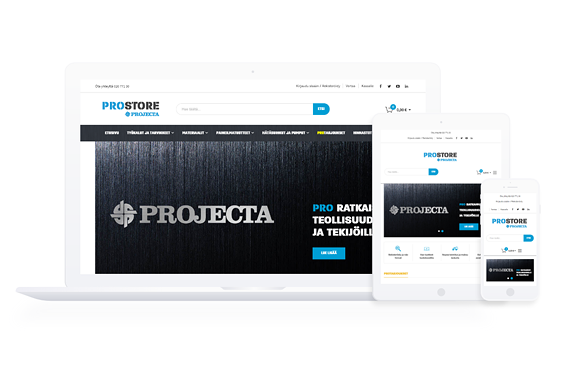 Magento 2
Projecta wanted to upgrade their existing Magento 1 online store to Magento 2 platform. This was an international project and required continuous and direct cooperation between several parties.
B2B ja B2C
Projecta's online store is designed for both B2B and B2C clients, and each product category has its manager.
User interface and design
Projecta's user interface was designed according to customers requirements. Category list view received a custom design, taking into account B2B customer requirements.
Projecta wanted to improve user experience and provide customers with a more efficient and more comfortable way to search for products using SKU code. Projecta had several requirements for the eCommerce solution including checkout simplicity, clear and comprehensive customer journey, speed and the ability to provide flexible discounts to B2B clients.
Lumav's client 2017 – thank you!
Microsoft Dynamics
Lumav created a data exchange integration with Microsoft Dynamics to build product and category relationships.
B2B
In Projecta online store, you can create a personal or a business account. Each product category is assigned a salesperson profile that also appears in the product view to make shopping easier.